The "other" German tanks
This page is aimed at representing non-operational tanks of the Wehrmacht in WW2, ranging from pre-production prototypes to more obscure paper projects. It is about bringing "what-if" operational camouflages and markings to forgotten models that were not chosen for production. What if Germany had resisted the onslaught long enough to unleash a whole array of these deadly machines, or had chosen to start building other more or less expensive tanks? Would have these vehicles really turned the tide, or would they have been massive failures, engineered by a megalomaniac brain obsessed with war-winning Wagnerian ideas of "grandeur".
Who say size doesn't matter ?
A battle raged on production matters between Adolf Hitler and Albert Speer. The Führer's ideas of land battleships and other super-heavy tanks and high-tech armament were extremely expensive and often impractical; as opposed to the cold realism of Albert Speer. One of the few people that had the final word on Hitler's fantasies, cancelling many of the projects that will be shown here. Probably the most outstanding of these projects were the Landkreuzer P.1000 Ratte and the P.1500 Monster. The former had the main armament of a battleship turret, while the latter was a gargantuan SPG fitted with the biggest piece of ordinance in the world at that time, the 80cm Schwerer Gustav, manufactured by Krupp. These projects were quickly canceled by Albert Speer, who recognized their ridiculousness; They would have indeed taken a terrible burden on steel supplies and other resources, not mentioning the expenses and skilled labor hours, all for dubious operational capabilities in the end, considering they would have been massive targets for Allied aircraft, and would have been too large to use any existing infrastructure.
New predators for the Eastern Front
When the IS-2 started to appear on the battlefields of WW2 in late 1943, the new Red Army tank outperformed the best tanks at the German Army's disposal, such as the Panther, Tiger, and Elefant. Germany's response not only came with the King Tiger, but took also the shape of the 75 ton Jagdtiger. But the German engineers were not done yet, they wanted to go bigger. Next came the Panzer VII Löwe, or Lion, originally a 75 ton tank to be armed with a brand new, high velocity 10,5cm L/70 cannon. The original idea of the Löwe was to be a command tank for groups of Tiger IIs, but the design quickly swelled past 90 tons. There were at least six designs for the Löwe, there were probably more, but they have been lost to time. The later, heavier designs were armed with a 15cm KwK 44 L/38. At this point, the Löwe was dropped, and was replaced by the VK100.01 Mammut (Mammoth) as Germany's fantasy super-tank. The VK100.01 quickly grew into Porsche's Type 205A Mäuschen, or Little Mouse, and then, of course, the Panzer VIII Maus.
Links and resources
The VK 16.02 Leopard on Wikipedia
The E 100 on Wikipedia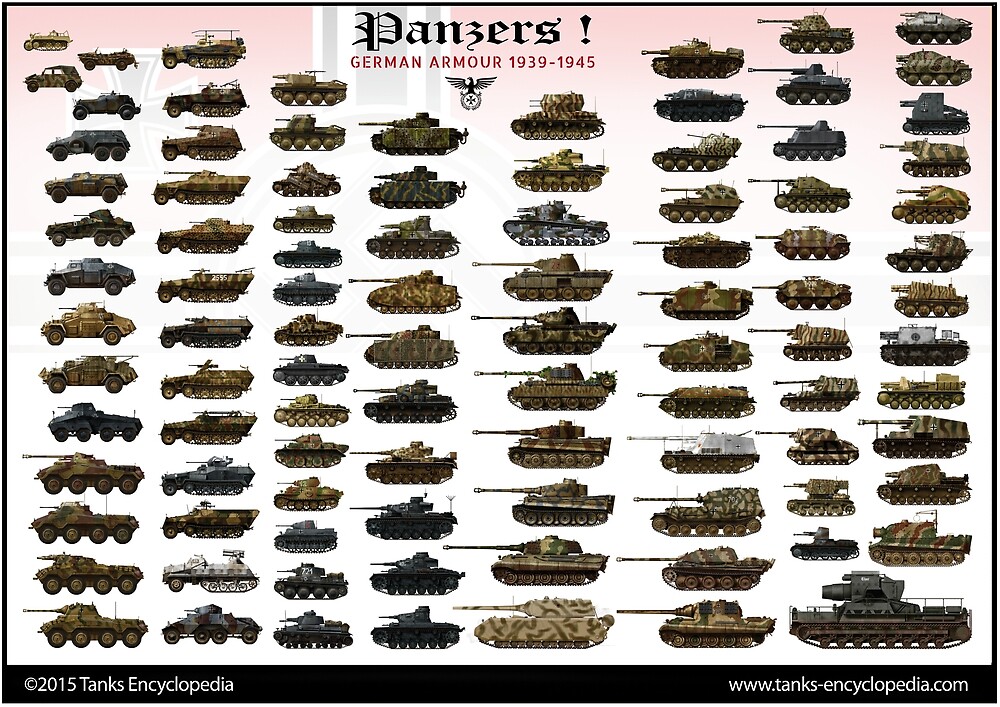 Germans Tanks of ww2
The Entwicklung (E) program
At the point in the War where any sane person could see that Germany was going to lose, tank engineers were more concerned with standardizing the production of the Third Reich's tanks for years to come. In the Entwicklung, or Standardpanzer Program, there were to be five tank classes, each representing a weight class and function.
E 5: Light tank weighing between 5-10 tons; the E 5 was not originally included in the Standardpanzer Program, but was a proposed vehicle, called the Panzerjäger Rutscher, that was grafted into the Entwicklung family. It was crewed by two men, and would have been produced by Bussing, Daimler, Steyr and Weserhutte. Planned duties were scouting, flamethrower, fast infantry support, light APC, radio relay, or light tank destroyer, mounting dual 8cm PAW 600s. Only a wooden mockup was built.
E 10: Light tank/tank destroyer weighing between 10-25 tons. The E 10 was to be built by Klockner-Humboldt-Deutz Magirus AG in Ulm in very large quantities. It was to replace the Panzer 38(t), Jagdpanzer 38(t) and the various Waffenträgers based on their chassis. One interesting feature of the E 10 is that it was to have "kneeling" suspension, that would have allowed it to minimize its profile while sacrificing mobility. Only a wooden mockup was built.
E 25: Medium tank/tank destroyer weighing between 25-50 tons. Designed and produced by Alkett, Argus, Adler and Porsche, the E 25 was to replace the Panzer III, Panzer IV, Sturmgeschutz III, Jagdpanzer IV, as well as provide a medium scout vehicle.
E 50: Medium tank weighing between 50-75 tons. Designed by Argus, Auto Union and Adler. The E 50 was essentially a Panther streamlined for production. It might have used the Schmalturm and 8,8 cm PaK 43 L/71.
E 75: Heavy tank weighing between 75-100 tons. A Tiger II streamlined for production, in all technical respects, the E 75 would have been identical to the King Tiger. Briefly before the War ended, a Sturmgeschutz E 75 was proposed, but did not have the chance to be developed further.
E 100: Superheavy tank weighing over 100 tons. The E-100 was to replace the Panzer VIII Maus. A Sturmgeschutz E-100 was proposed, either to mount a 15cm, or 17cm gun, although the latter version was preferred. A nearly complete E-100 hull was built before the War's end; It was scrapped by the British.
Anti-tank missile carrying-vehicles
Germany also pioneered the missile concept, showing advances unlike any other nation, and was more than 20 years ahead compared to the rest of the world. Many new innovative weapons systems being tested at the end of the War. The whole range of missiles started with the new generation of shaped-charge projectiles, like the 8,8cm Raketenwerfer 43. There was a whole range of vehicles, mostly Panzer 38(t)/Panzer 38(d) derived, which could have carried and deployed these armaments in operations. The PAW 600 and PAW 1000 could have launched high precision self-propelled winged rounds. There were also a whole range of ATGMs in development, like the Pfeifenkopf (radio-guided missile), the Steinbock (infrared-guided), and probably the most promising and advanced of these, the X7 Rotkäppchen (Red Riding Hood), which was a small wire-guided missile with a warhead powerful enough to defeat 200 mm (7.87 in) of armour.
Anti-aircraft defense vehicles
Along with new tanks, new self-propelled anti-aircraft guns (SPAAGs) were in development. The Flakpanzer IV Kugelblitz (Ball Lightning) was a Panzer IV chassis armed with a round turret housing dual MK 103/38 3cm autocannons. The most impressive of the new Flakpanzers, however, would have been the Flakpanzer V Coelian, which came in three flavors, one with quad MG 151 2cm cannons, one with dual 3,7cm FlaK 43 cannons, and one with a single 5,5cm Gerät 58.