Syrian Arab Republic (Circa 2014-2017)
Main Battle Tank – 8-10 Converted (As Of March 2017)
Forged by Civil War
T-72 Mahmia (meaning "shielded/protected" in Arabic) is an unofficial name for up-armored T-72s from the Syrian Civil War. These tanks are Syrian Arab Army (government forces) T-72s that have been fitted with additional armor – mostly cages, chains, and spaced armor (reported by an SAA source to actually be some type of simple composite) – in order to protect the tanks from RPGs and missiles. They were first seen in combat in 2014 at Jobar, a suburb of Damascus, and have been seen commonly since. Various combat footage and photographs show that the upgrades are somewhat reliable against RPGs, but are often no match for modern ATGMs (Anti-Tank Guided Missiles). The vehicle is perhaps more commonly known as "T-72 Adra", but this is a western name, and the name "Mahmia" has been chosen, as Syrian sources refer to the vehicle as "Shielded tank".
---
Hello dear reader! This article is in a constant state of update, given that it is a contemporary tank. We are also aware that some sources used in this article may be unreliable / untrustworthy. Updates will be made when more reliable information is available.
---
Other tank models have been upgraded in a similar fashion, such as the ZSU-23-4, but the Mahmia upgrades are mostly given to T-72s. Tanks with much more hasty armor upgrades, such as spent shell cases fastened to the turret and hull, and tanks with bricks replacing lost ERA (Explosive Reactive Armor), are not included under the unofficial designation "T-72 Mahmia", as they are either precursors or separate upgrades.


Fairly typical early-production T-72 Mahmia with the usual balls and chain armor. This chain armor proved ineffective at stopping missiles.
Context: T-72s in Syria
An estimated 700 T-72s are believed to have been delivered to Syria in four batches. The first two batches came from the USSR. The first, in the late 1970s, consisted of 150 T-72s (the initial production type, the Object 172M, AKA T-72 "Urals") and the second batch, consisting of 300 T-72As, came in 1982. The T-72As were a very rare export, as these were not even sold to Warsaw Pact countries under the USSR. The 300 T-72As were divided between the Republican Guard and the 4th Armored Division, and were all eventually upgraded into T-72AVs, featuring Kontakt-1 ERA (Explosive Reactive Armor).
The third batch of T-72s consisted of 252 T-72M1s, which were ordered from Czechoslovakia, of which only 194 were delivered in 1992 due to the dissolution of Czechoslovakia. Slovakia eventually delivered the remaining T-72M1s in 1993, in what can be considered a fourth batch.
Between 2003 and 2006, 122 T-72s, of all types, were upgraded with Italian TURMS-T FCS (Tank Universal Reconfiguration Modular System T-Series Fire Control System) and tanks upgraded to this standard had the letter 'S' added onto their designations. 'S' stands for "Saroukh", meaning "Missile", which refers to these tanks being able to fire the 9M119(M) guided AT missiles from their guns. An estimated 100 of these upgraded vehicles are in service as of 2014, mostly in service with the Republican Guard. Some were lost in Damascus in 2013 during the early stages of the Civil War, but the remainder are believed to be held in reserve thus far, because T-55s and T-62s are in such large supply.

Syrian T-72M1S, a T-72M1 fitted with TURMS-T Fire Control System.
An estimated 300 T-72s, of all types, remain in service as of 2014. 19 T-72s (13 T-72 Object 172Ms, and 6 T-72AVs) are operated by ISIL, and 8 (2 purchased from a corrupt officer, and 6 captured, of which 1 is a T-72M1S) are in use by Jaish-Al Islam. The rest are still operated by government forces.
Oryx blog gives an excellent overview of T-72s in Syria, which can be viewed here.
Design Process
Thanks to social media, the history of the design of the T-72 Mahmia has been fairly well documented. According to the Oryx blog, the T-72 Mahmia was the result of experiments by the Syrian 4th Armored Division, an elite unit of mostly career soldiers, often regarded as Syria's most elite force. However, this was not the first attempt by the SAA (Syrian Arab Army) at providing additional protection for tanks.
Precursor: Bricks and spent shell case armor
All too common are photos of battle-worn T-72AVs fitted with exceptionally crude armor upgrades. These come in two distinct types. The first is mesh baskets on the turret (presumably made from thin metal pipes or similar commercial materials such as wall insulation mesh) which are filled with building bricks and rubble in order to replace Kontakt-1 ERA which has been lost. This was a modification usually done to the turret, but some examples show mesh sideskirts made from a similar material. For the sake of clarity, the unofficial name of "T-72AV Labna" (meaning "brick") will be used to designate these. Tanks upgraded in this fashion still appear today, with new innovations such as sandbags being used instead of rubble. It is reported that this was a design first introduced by the 4th Armored Division.
The second type of improvised uparmoring is spent shell cases being strapped to the vehicle's hull and turret, often with a similar mesh basket / cradle as seen on T-72AV Labna tanks. Various types of vehicles use this type of uparmoring, including T-72s and T-55s.


A T-62 fitted with spent shell cases as spaced armor. The effectiveness and reliability of this upgrade are very questionable but was a precursor to the T-72 Mahmia.
It seems likely that these upgrades were an attempt to stop missiles and RPGs from penetrating armor, but without a doubt, the real combat effectiveness of these improvised and crude up-armoring ideas is negligible. Whilst they might cause an RPG to explode a short distance away from the armor, it is probable that the rubble or thin shell cases would not absorb the impact, and the projectile may still damage the vehicle in some manner.
In short, these crude upgrades were simply not up to the task, but the idea of up-armoring was sound enough to receive further attention.


A precursor of the T-72 Mahmia, the "T-72AV Labna" ("brick"), again, another unofficial name. It appears as though these were T-72AVs with their lost ERA replaced by bricks. Credits: Oryx blog.
Precursor: Early 4th Armored Division Experiments
The elite 4th Armored Division realized the potential of spaced armor as an effective means of stopping RPGs, and as a result, began experimenting with more conventional designs on their T-72s, and possibly BMP-1s. Two distinct types of experimental T-72 upgrades were trialed.
The first type had three metal sheets strapped to the turret with sandbags filling in the gaps, a long metal sheet strapped onto the side of the hull as a sideskirt, and spent shell cases added to the top of the new sideskirt. Some also had shells strapped vertically to the front of the hull.


T-72 upgraded with a long sideskirt, sandbags behind metal sheets on the turret, and T-72 shells above the sideskirt and on the front hull. This was one of the later prototypes eventually leading to the iconic T-72 Mahmia.
A second experiment was made by giving T-72 Urals with the TURMS-T upgrade sets of all around cage armor. This type was only seen at vehicles operating near Aleppo. Some may have had additional sandbags placed behind the turret cage armor.


Two examples of the second type of experimental T-72 upgrade, featuring slat armor, and possibly additional sandbags in the turret. Near Aleppo, circa early 2014.
It is unclear how these vehicles fared in combat, but without doubt, both types of upgrade had potential, and it seems as though in the summer of 2014, the two designs were combined to make the T-72 Mahmia.
1st Generation T-72 Mahmia
From August 2014, the 4th Armored Divison began to upgrade T-72M1s, as well as military bulldozers, and at least one ZSU-23-4 "Shilka" from their workshop in Adra (north of Damascus). This has earned them their unofficial name of "T-72 Adra", but primary sources (such as tweets and Youtube videos from Syrians) refer to them as "Shielded T-72s" or "Shielded Tanks", hence the name "T-72 Mahmia", meaning "shielded". It is highly likely that the 4th Armored Division may have a specific, but unofficial, name for these T-72s.
The "1st generation" (or initial production) T-72 Mahmias have cages with what appears to be spaced armor bolted and welded onto the tank with support beams. Chains with steel balls, similar to those seen on Merkava tanks, were added to new hull side-skirts and below the turret's cage armor. The only gaps in the cage were a small, rectangular hole to allow the gun to elevate, and a gap for the rangefinder. These armor packages appear to be fairly standardized, although some design differences do exist. The front of the hull typically had a thin girder with chain armor attached to it.
The armor would serve the job of stopping enemy rockets and explosives from penetrating the tank's hull or turret. RPGs, especially, would hit the cages and explode some distance away from the tank's armor, thus not being able to penetrate the vehicle, and ultimately, causing damage only to the cage at best.

It is commonplace for T-72 Mahmia to have a new, typically two-tone, camouflage, as opposed to typical sand or green liveries. This is a key indicator as to whether a vehicle has been upgraded in the field or at the Adra workshop, as new liveries only appear to have been given by the 4th Armored Division.
The first batch of upgraded tanks were three T-72M1s, which were sent to Jobar, in the northeast of Damascus. More conversions followed soon after.
Spaced or Composite Armor?
An SAA source reports that the armor seen on T-72 Mahmias are not, as many people think, merely spaced armor. The armor boxes, especially on the front of the hull, are actually a type of composite armor, which are in fact filled with an unknown material. The source refuses to inform us of the material.
The source reports: "[the armor] is not spaced. The boxes are not empty as people think, at first, yes, it was, but not now. It's not like a secret, it's just people will make fun from it [sic], and no one will care for the fact that it is useful and the budget is low. For me, it's a great hack, I will not publish it, just so no one will make fun of these guys' effort. It stopped many RPG-29s, and it's a great result. We are using something extremely unusual... …I've heard the armor weights around 10 tons. I personally believe it's between 10-14 tons."
Changes over time
The T-72 Mahmia's design has gradually changed over time. It appears as though some T-72 Mahmias have had field modifications. It is difficult to identify these from photographs, but one appears to concern heightening the turret cage armor with additional commercial materials, such as thin metal wall insulation meshes.
It appears as though the success and failure of certain field modifications (taking place outside of the Adra workshop) have filtered back to the workshop, and have created a new generation of T-72 Mahmia. Given that these changes were gradual and happened over time, various hybrid T-72 Mahmias exist, showing examples of the 1st and 2nd generation vehicles.
Nevertheless, these hybrids are few, and therefore, the T-72 Mahmia can be generally understood as currently being in two generations.
2nd Generation T-72 Mahmia
The 1st generation of T-72 Mahmia has two major flaws. Firstly, the cage armor does not protect the vehicle from above, and a well-aimed RPG shot from a window is likely to knock the tank out. Secondly, the ball and chain armor do not appear to have been able to stop RPGs, let alone ATGMs.
These are clearly well-known limitations and have been addressed in recent months. In 2016, photos and reports began flooding in showing a new standard of Mahmia upgrade. The key differences are the use of thicker girders to hold appliqué and cage armor to the vehicle, the removal of ball and chain armor, the inclusion of a larger hull bumper (apparently some were made from I-girders) with spaced armor added onto it, the cage armor being heightened, and more, apparently thicker, spaced armor being added to the glacis plates.
The heightened cage armor on the turret would provide optimum protection with minimal obstruction to crew hatches, but this would endanger the crew. They may not be able to quickly abandon the tank, as it appears as though they would have to scramble over the cage to escape the vehicle.
The larger and strengthened bumper with its spaced (or, indeed) composite) armor may also provide some actual protection against RPGs and small missiles, whereas early type T-72 Mahmias with thin bumpers with chain armor would not. Similarly, the use of thicker girders would make the additional armor more sturdy as a whole, and would perhaps make the armor less likely to be damaged by careless driving.


T-72 Mahmia, second generation, with heightened turret cage and armor added to the glacis plate. There is space left for the gun to elevate, and such a design would allow better protection for the turret when fighting on uneven ground, but it would still obstruct the crew from quickly bailing out.
Miscellaneous Field Modifications
Not all field modifications were successful. There are some photos of some T-72s having substantial amounts of cage armor, particularly with cages enclosing the turret completely from above. At least two examples of this type are known, but did this does not appear to have become a widespread upgrade. Firstly, such an upgrade would significantly increase the vehicle's weight. Secondly, the vehicle would have its size and silhouette significantly increased, making it an obvious target. Thirdly, it might have taken up too many resources to upgrade all tanks like this. Finally, if the crew needed to abandon the tank in an emergency, the cage would prevent them from easily escaping.


T-72 Mahmia with total protection for the turret. This was seen on at least two examples but is not likely to have been a successful upgrade, due to it causing the crew trouble with bailing out in emergencies.
As the civil war rages on, it is almost certain that a new generation of T-72 Mahmia will be seen. Due to attempts by the SAA to improve their T-72 armor upgrades, the Mahmia, as it is known, may cease to be built ever again, and may be replaced with new projects (see below).
Combat
Combat evidence, mainly photos and videos, show that the T-72 Mahmia could only resist RPGs consistently, and had only some potential to resisting ATGMs. The most common problem appears to be internal fires caused by ATGMs, but crew abandonment is a close second. Social media provides almost daily updates on the Syrian Civil War, and from this, it is easy to find a variety of case studies with which to build up a picture of the T-72 Mahmia's combat effectiveness.
Jobar
The first ever produced T-72 Mahmias at Jobar had very mixed results – of the three sent to combat, only one appears to have survived. One appears to have been damaged, set alight, and abandoned by its crew near the Kamal Masharaqah Barracks. Another was totally destroyed, apparently from a major interior explosion, given that the entire hull was blown open, the cage armor was strewn around the wreckage, and the turret was blown off. The third seems to have survived.
Resisting ATGMs?
However, these vehicles may not have been destroyed by a single ATGM hit. There is some evidence to suggest that the T-72 Mahmia could withstand at least one hit:
On 8th October, 2016, the Syrian Army reported that a T-72 Mahmia was hit twice by a Malyutka ATGM. The first hit, apparently, did not destroy the tank, but caused the crew to abandoned the vehicle. However, the second hit appears to have caused an internal fire to break out, which destroyed the vehicle. It is unclear if the first hit dislodged any armor or not, or whether it caused any major damage, and the photograph provided gives no clues.


T-72 Mahmia hit twice by Malyutka ATGMs, October 8th, 2016, near Damascus.
Careless driving damage?
Some photographs of reportedly battle-damaged T-72 Mahmias show that the cage armor has been twisted out of shape or totally dislodged and needs replacing. It remains unclear if this is as a result of bad driving, or the vehicle being able to resist large explosives. The photograph below is one of these examples and is rather inconclusive.


Damaged T-72 Mahmia, 1st generation. It is unclear what has caused this damage to the vehicle. It may be from an ATGM impact, but it may also be a case of bad driving. There are no apparent scorch marks on the vehicle's remaining armor, with the possible exception of the bent turret cage armor.
Wadi Barada
Around 17th January 2017, another T-72 Mahmia at Wadi Barada, was destroyed by an internal fire, probably having been hit by an ATGM.

Footage of the T-72 Mahmia, destroyed at Wadi Barada, 17th January, 2017.
Resisting RPG-29 hits
On 23rd March, 2017, a T-72 Mahmia was hit by two RPG-29s. The first hit damaged the additional armor, but did not hit the original turret. A second RPG-29 was deflected by the vehicle's additional armor. The tank merely needed a section of its additional armor to be replaced.


T-72 Mahmia, having taken a hit to its armor by two RPG-29s, 23rd March 2017. The damage appears superficial.
On April 16th, 2017, a T-72 Mahmia was hit by an RPG-29 at Qaboun. The RPG hit the vehicle but did not penetrate the tank. However, the shockwave injured the commander, who is reported to have sustained internal bleeding, and some broken bones from the shock. The vehicle was put back into service on April 17th. The T-72 Mahmia was hit alongside the T-72AV Shafrah, which was immobilized by an enemy AT mine, and later burned by rebels to prevent recovery.
Resisting IEDs (Improvised Explosive Devices)
On 18th April 2017, a T-72 Mahmia was hit by a Free Syrian Army IED directly underneath the driver's compartment at Qaboun. The driver, Mohammed Abdu Allah was killed, but the commander and gunner managed to escape. The vehicle was set alight by the Free Syrian Army shortly after, in order to prevent recovery.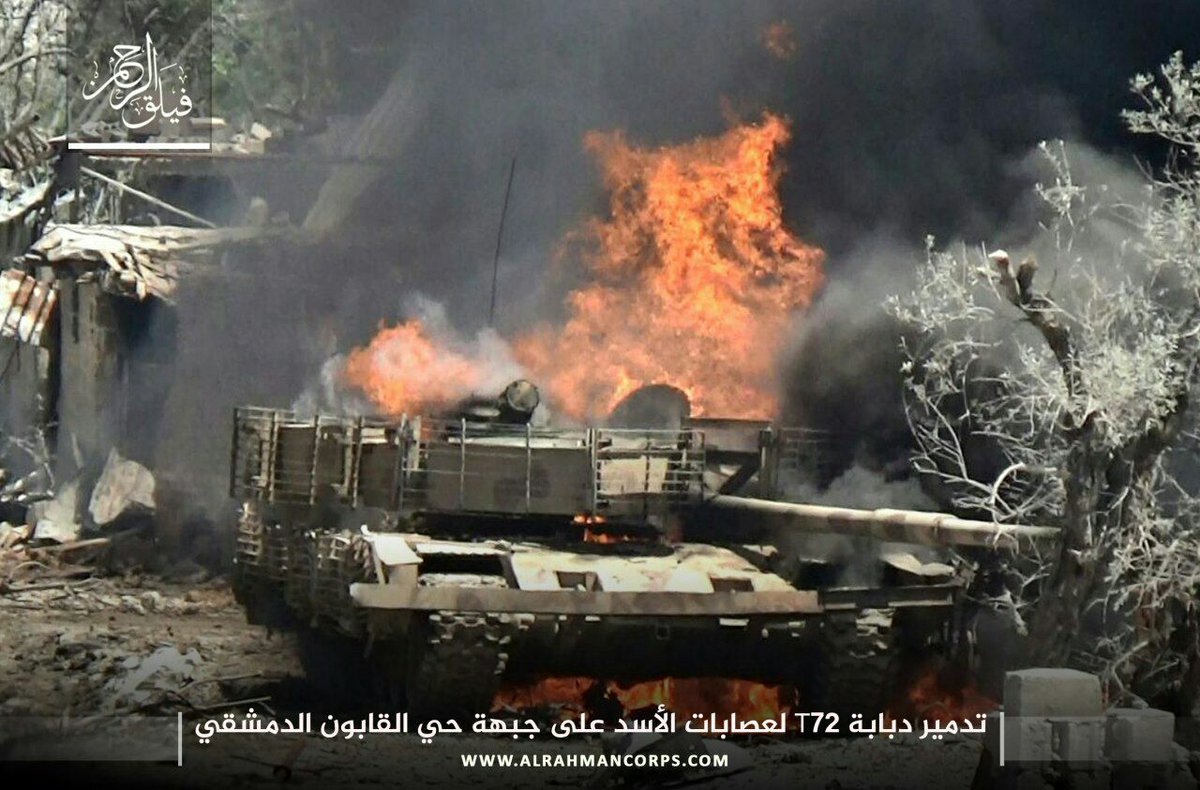 T-72 Mahmia, hit by an FSA IED on 18th April, 2017. The driver was killed, but the commander and gunner escaped. The tank was burned by the FSA after it was abandoned, in order to prevent recovery.

The T-72 Mahmia, hit by an IED on 18th April, 2017, after the fire had died down.
Conclusions on combat
Unfortunately, without further evidence, it remains only likely that the vehicle could resist ATGMs in rare instances. It is also unknown if the T-72 Mahmia has engaged in tank-on-tank combat thus far.
Video footage shows that T-72 Mahmias are, in recent times, being used in a combined arms effort. Footage from an assault at Deir Al Khaimah, western Ghouta, near to Damascus, shows that the T-72 Mahmia is used in an infantry support role in urban areas. This is in contrast to non-shielded T-72s, which are typically dug in and used alongside field guns. Thus, there should be little doubt that T-72 Mahmias are being used for urban assaults, and not just general purpose upgrades.

T-72 Mahmias deployed in an a combined arms assault at Deir Al Khaimah, western Ghouta, near Damascus.

A fairly typical T-72 Mahmia, 1st generation. The 1st generation designs featured chain armor, thin support beams, and only some pieces of spaced armor.


Second generation T-72 Mahmia. These vehicles had additional steel plates, and heightened cage armor, but did not feature ball and chain armor, as the balls and chains were ineffective at stopping enemy missiles. The cage armor is also slightly taller than usual, and the front bumper is made from a thick I-girder.


Early type T-72 Mahmia with chain armor on the front hull attached to a small bumper. Notice the hole in the cage armor for the rangefinder.


An example of a T-72 Mahmia with total cage armor protection. This one appears to be much large than other examples, and whilst it may provide better protection, it would, no doubt, make the vehicle much heavier, unwieldy, and it would possibly take up too many resources per tank.


Transitional T-72 Mahmias – whilst they still feature chains on the turret, the hull fronts have not been fitted with chains, and instead have spaced armor on enlarged bumpers. The one on the right appears battle damaged or, more likely, poorly driven, as it is missing many steel chains, and the spaced armor is bent out of shape.


Different view of the above.


T-72 Mahmia, probably from the same batch as the above. It shows signs of battle damage, or, more likely, careless driving, as it is missing some chains, and the cages and fenders are bent out of shape.


T-72 Mahmia, which appears to be a little battle worn. There is an additional thin screen over the turret cage, likely a commercial wall insulation mesh or some type of fencing. This is likely a field modification, although it is unclear why it has been added. It may be a field repair to the damaged turret cage, or possibly a means of heightening the cage armor.


T-72 Mahmia with a huge amount of additional steel plate added to the hull. This would, no doubt, significantly increase the vehicle's weight. It is unclear how thick the plate is, but it clearly is not solid as it is welded on and buckled in places. It is likely a rather thin sheet of probably mild steel, which is why small rockets (top right, and above the left tow hook) have become physically embedded in it. The remnants of the brown blob of the new paintwork can be seen where the missile hit.


T-72AV Labna with crude cage armor. This was a precursor to the T-72 Mahmia, and often was used to replace lost ERA bricks with construction bricks. The effectiveness of the upgrade is questionable.


One of two initial experiments from the 4th Armored Division. This is an example of the type featuring long sheets of metal as sideskirt armor, some plates added to the turret, and spent shell cases fitted above the sideskirt.


ZSU-23-4 "Mahmia" of the 4th Armored Division. This vehicle would likely be used for heavy anti-infantry purposes, particularly for engaging rebels in tall apartment blocks. It is believed that there are multiple ZSU-23-4s upgraded to the Mahmia standard. Close inspection reveals that these are actually modular armor boxes, which can be removed. These are also reported by an SAA source not to be mere spaced armor, but some type of composite armor, the make-up of which is being kept secret; however, the source does report that the make-up is very simplistic, but effective.



Bulldozer of the 4th Armored Division upgraded to the Mahmia standard. This particular one is reported as being destroyed in December, 2014, at Jobar. It was immobilized, having been hit by numerous times by RPGs, and anti-materiel rifles. Afterwards, rebel fighters tunneled to the vehicle and detonated a satchel charge beneath it, causing an internal fire. The armor boxes are also modular and likely composite armor.

Further Developments
T-72 Grendizer
It seems more than likely that thicker armor will be developed in order to resist ATGMs. The possibility of seeing composite armor is highly likely. According to a tweet by SyrianMilitaryCap., a new vehicle, the "T-72 Grendizer" is being developed. The short tweet states that this will be a "T-55 Enigma, reborn", likely indicating the use of composite armor.
The T-55 Enigma of Iraq, circa 1989, was a T-55 that was given modular composite armor blocks. It was a crudely built design, as evidenced by the plentiful and poor quality weld beads on the armor upgrade package. It is believed to have been built with fairly similar production capacity to the Mahmias in Syria, as sources suggest that Iraqi arms production was restricted to workshops with fairly limited industrial capabilities (with the possible exception of the Asad Babil and Saddam MBTs, the existence of which is still in debate).
However, the key difference is that the design of the T-55 Enigma was, from the outset, and by no coincidence, able to resist ATGMs.
A seemingly much more advanced application of military science was used in the construction of the T-55 Enigma compared to the T-72 Mahmia, given that the upgrade concerned giving the vehicle composite armor, not basic cage and spaced armor. The T-55 Enigma had modular armor boxes that had seven layers of steel plate and rubber sheeting inside, spaced apart by roughly a centimeter. What this meant for the T-55 Enigma is that it was able to resist ATGM hits, as evidenced in the Battle of Khafji (1991).


Diagram explaining the T-55 Enigma's composite armor.
The T-72 Grendizer, should the vehicle ever appear, likely comes as a result of two factors. Firstly, the T-72 Mahmia is somewhat unreliable, if not ineffective, at resisting ATGMs. Secondly, it appears as though uparmoring T-72s and other vehicles has become standard practice in the SAA, with resources being reorganized for mass upgrades of all types of AFVs.
Without doubt, a lot of resources would be required if the Enigma upgrade is to be replicated in Syria, and there is a major question as to whether or not the 4th Armored Division has the manufacturing capability, or the necessary resources to replicate the Enigma upgrade.
The fact that it has been over four months since the T-72 Grendizer has been announced may point towards the Syrians not having the capabilities to make such a vehicle, but only time will tell. Perhaps the key difference between the Enigma's and the Mahmia's production is that the Enigma appears to have been a major military project backed by state resources. Given that uparmoring of tanks seems to have become nationwide practice in Syria, it is not unreasonable to expect the T-72 Grendizer to appear soon.
Since the original publication of this article in February 2017, new info has come to light. The T-72AV Shafrah ("Sharp Knife") is claimed to be a testbed for a new set of armor designed for the future T-72 Grendizer. The Shahfrah has been seen in combat consistently from February 2017. It is essentially an attempt to develop spaced armor that is more resistant against ATGMs.
The owner of the Within Syria blog reports that the armor is composed of plates angled at various inclinations (40-60 degrees) of 1.5-2 mm RHA, tungsten, and glass fiber, welded to a bar frame on the turret and side of the hull. The tungsten part is rumored to consist of 1mm thick copper-tungsten. However, with a budget of $5000-10,000, the 4th Armored Division is unlikely to be able to use tungsten. The vehicle also received very thick plates on top of its front glacis.
The source reports that 8-10 T-72 Mahmia tanks have been built, but there are far more T-72s approved for the upgrade. However, these might actually be upgraded to the Grendizer standard once the project is finalized. It is also claimed that the upgraded T-72s are only needed in and around Damascus, due to the dangers of urban combat.


The T-72AV Shafrah, likely a testbed for the T-72 Grendizer's armor.
Sidenote: T-55 cage upgrades
Photos ranging from mid-2015 to February, 2016, seem to show T-55 tanks upgraded to a Mahmia-like standard. These seem to incorporate typical 2nd generation T-72 Mahmia upgrades, such as slat armor (but no chains), and a new large fender. However, there are some differences. Firstly, there is no additional spaced or composite armor. Secondly, the cages are not bolted onto the vehicle with large support beams, but rather are fitted directly onto the turret, and are curved. Thirdly, the turret-mounted DShK is commonly covered by a shield for the commander. Finally, the front of the hull also has a cage, which is not seen on T-72 Mahmias. It seems highly likely that these are standardized workshop upgrades.


A T-55 fitted with cage armor, similar to the above. A new fender can be seen on the far right of the front of the hull. Additional munitions are clearly stored in the turret cage.
Commentators will suggest that T-55s are in large supply to the Syrian Arab Army, with some reports suggesting that T-55s and T-62s are being supplied to Syria from Russia. Thus, they go on to suggest that T-55s are somewhat expendable enough to not require up-armoring, unfortunately for their crews. Despite this, it seems inevitable that all vehicles will be uparmored in some manner.


A T-55 upgraded in a manner similar to the Mahmia. The armor differs from, even if it resembles, a T-72 Mahmia's armor.

T-72 Mahmia and a VT-55KS assaulting near Daraya.
Sources
Correspondence with an SAA source, regarding the uparmored tanks in Syria.
"T-72 Main Battle Tank 1974-1993" by Steven J. Zaloga
southfront.org
southfront.org 2nd page
armyrecognition.com
spioenkop.blogspot
spioenkop.blogspot 2nd page
syria.liveuamap.com
sturgeonshouse.ipbhost.com
ar15.com forums
otvaga2004.mybb.ru
bellingcat.com
timesofisrael.com
menadefense.net

Syrian T-72 Ural in a rare three-tone camouflage.

Syrian T-72AV of the Republican Guard. T-72s of the Republican Guard were painted in a sand livery, whereas the 4th Armored Division's tanks tended to be green.

T-72 Mahmia, early type with chain armor.

All Illustrations are done by Tanks Encyclopedia's own David Bocquelet.