German Reich (1942)
SPG – 12 Built
The German self-propelled howitzers
There were two main types of self-propelled guns in the German Army during WW2. One was fitted with an anti-tank gun and the other with an artillery howitzer, like the 10.5cm leFH 18 (Sf.) auf Geschützwagen FCM 36(f) self-propelled gun. The vehicle fitted with the artillery howitzer was called a 'Geschuetzwagen', which is literally translated as a 'gun vehicle'. The letters 'SF' stand for 'Selbstfahrlafette' – self-propelled carriage. The letter (f) indicates that the chassis was of French origin.


Recently manufactured 10.5cm leFH 16 (Sf.) auf GW FCM 36(f) in factory fresh condition.
Improvised self-propelled artillery guns were developed to enable fast moving attacks to have artillery support that could keep up with the speed of advancing Panzer Divisions. They could use direct fire mode at targets they could see or, more commonly, use indirect fire at targets plotted on a map.
They were not designed to be in the front line or engage in combat with tanks. They were motorized artillery guns that could fire high explosive HE shells over the heads of friendly troops. Most targets would have been given to the crew as map grid references by forward observation officers or infantry units under attack.
Quite often, the gun crews could not see where their shells landed, as the target was so far away. They would have to rely on the forward observer to tell them if adjustments had to be made.
The open-topped back design of these self-propelled guns had a number of advantages. The elevated commanders position when standing in the crew compartment, behind the protective armored shield, meant that he had a good view on all sides. If there was the threat of enemy small arms fire, then the crew could use a twin lens range finder telescope that could peak over the top of the armored casement.
There was enough room for the crew to be transported towards the battlefield whilst protected from small arms fire and shell shrapnel. The vehicle had good mobility and could follow the infantry almost anywhere. The gun was quicker to get ready for action and fire on targets than towed artillery guns.
They were cheaper and faster to build than a new vehicle. They used the chassis of an obsolete captured French tank and an existing artillery howitzer.
Putting the 10.5cm leFH 18 howitzer on top of a captured French FCM 36 tank chassis was a more efficient use of manpower from the traditional form of German artillery battery transportation. Even in WW2, horse power was still widely used although tracked vehicles were also used when available.
Each field gun would require a six-horse team to pull the gun and limber. The ammunition, supplies and kit would be kept in the limber, which was a very large box on a pair of wheels with seats on the top. Three men would ride on the left hand horse of each pair to control them. The remaining six men of the gun crew would ride on top of the limber. Only a relative few were towed by the 3 ton halftracks.


10.5cm leFH 16 auf GW FCM 36(f) awaiting the gun shield to be fitted in the factory workshop run by Major Becker
The German FCM 36 artillery SPG
The total amount of 10.5cm leFH 16 (Sf) auf Geschützwagen FCM 36(f) built has not been confirmed. Some say only eight, whilst other sources say 12 or even 48. At present there is no documentary evidence to confirm the exact number. The reason why eight is the preferred number is because of a photograph taken inside the tank conversion factory workshop that shows six 10.5cm gun barrels on the floor waiting to be hoisted onto the new built SPG gun mounts and in the background there are two FCM 36 tank based artillery SPGs already fitted with their gun barrels.
There is good evidence that 12 were produced as German Army orders show eight being sent to an Artillery Battalion 31st October 1942 and later four more being sent to the same unit in early 1943.
There were a few disadvantages of an open topped vehicle. The crew was exposed to the elements and were also at risk of injury from enemy thrown hand grenades, mortars and shrapnel from air burst enemy shells. Rain covers were produced. They covered both the crew compartment and the gun. The canvas was attached to the upper protective armour using the small D shaped rings welded to the upper part of the structure.
Because the French FCM 36 tank chassis was small, there was limited space for the storage of ammunition. Only thirty six 10.5 cm HE two part shells could be carried. The propellant charges were kept on the left of the vehicle whilst the projectile shells were stored on the right.
A MG 34 machine gun was attached to top right side of the armor casement, on a swivel mount to the right of the main gun. 50 round drums of spare ammunition were stored underneath the mount. It fired 7.92 mm (0.31 in) bullets.
Only 100 French built FCM 36 tanks were completed by the time of the German invasion of France in May of 1940. In early 1939, the French Army 4e and 7e Tank Battalions were equipped with 50 tanks apiece. After the German invasion of Poland in September of 1939, the two battalions were consolidated under the banner of the 503e French Second Army reserve. The FCM 36 tanks saw active service when they attempted to counter the growing German presence at a bridgehead being set up along the Meuse River at Sedan
With the fall of France, it is believed that roughly 50 FCM 36 tanks remained in operational service. The Germans decided to use some of these French tanks to help strengthen their occupation forces around France. These captured tanks were known as Beutepanzers, trophy tanks. Thirty seven were used as tanks and give the German Army designation of Panzerkampfwagen FCM 737(f). The letter "f" indicate that the tank was of French origins. Ten FCM 36 tank chassis were used to mount 7.5cm PaK anti-tank guns. These tank destroyers were known as the Marder I.
It is not clear if Panzerkampfwagen FCM 737(f) tanks were withdrawn from internal security patrols and converted into self-propelled artillery and anti-tank guns or if the chassis came from knocked out or abandoned FCM 36 tanks that were recovered or captured on the battlefield .


Six 10.5cm leFH 16 gun barrels awaiting hoisting into the new gun mounts on top of the modified FCM 36 tanks. Two have already been fitted. This is why some sources say only eight 10.5cm le.F.H.16 auf GW FCM SPGs were built. Other documents state that 12 were built.
The 10.5cm gun
The 10.5 cm leFH 16 gun was a German light howitzer used in World War I. It had a shorter range than the WW2 10.5 cm leFH 18 gun. As the it had the same caliber as the newer leFH 18, it could fire the same ammunition. The abbreviation leFH stands for the German words 'leichte FeldHaubitze' which, translated, means light field howitzer. The number 16 refers to 1916, the year it was introduced into the Imperial German Army. They were produced by the German weapons manufacturer Krupp.


German 10.5cm LeFH 16 Howitzer preserved in a park, North Baltimore Street, Kirksville, MO, USA
It was fitted with a 'Mundungbremse' muzzle brake to allow longer range charges to be fired and reduce the amount of recoil on the gun. This increased the operational life of the gun barrel.
The 105 mm high explosive HE shell weighed 14.81 kg (32.7 lb). The armor piercing shell weighed 14.25 kg (31.4 lb). It had a muzzle velocity of 395 m/s (1,300 ft/s) and a maximum firing range of 9,225 m (10,089 yd). With a good gun crew, it had a rate of fire between 4-5 rounds per minute.
The 10.5cm leichte Feld Haubitze 16 gun was not very useful in the direct-fire mode against enemy armored vehicles. It could only penetrate 52 mm (2 in) of armor plate at a very short range of 500 meters.
The high explosive shell was in two pieces. It was a 'separate loading' or two part round. First, the projectile would be loaded and then the cartridge propellant case.


Fully loaded 10.5cm leFH 16 auf Geschützwagen FCM 36(f) with high explosive shells and charge canisters. The machine gun was mounted to the right of the gun.
Operational Deployment
Eight 10.5cm leFH 16 (Sf) auf GW FCM 36(f) artillery self-propelled guns were issued to the gepanzer Artillerie-Abteilung (Sfl.) z.b.V (Armored Artillery Battalion) on the Western Front through an order dated 31st October 1942 (K.St.N.430).
The letters z.b.V were the abbreviation for 'zur besonderen Verwendung'. An English translation would be 'for special deployment' or 'for special assignment'.
They were divided up between two self-propelled artillery batteries called 1.Batterie (Sfl.) and 2.Batterie (Sfl.). Four SPGs were in each battery. The abbreviation (Sfl.) roughly translates to gun carriage or self-propelled gun.
A further four were issued for deployment. They were put in the 3.Batterie (Sfl). This gives strength to the argument that twelve 10.5cm leFH 16 (Sf) auf GW FCM 36(f) were built.
On the side of the upper armor of one vehicle in one of the surviving photographs is the number 2 over a 6Gp. This means that this vehicle was the gun tank number 6 in the 2nd Battery. The 1st Battery would have SPGs numbered 1, 2, 3 and 4. The 2nd Battery would have SPGs numbered 5, 6, 7 and 8. The 3rd Battery would have SPGs numbered 9, 10, 11 and 12.
In March 1943 the unit was renamed. It was now called the Sturmgeschuetz-Abteilung 931 (931st Assault Gun Battalion). This unit's long name is often abbreviated to Stu.Gesch.Abt. 931. This Battalion was also equipped with 7.5 cm Pak 40 auf FMC 36(f) anti-tank self-propelled guns and an anti-aircraft battery of 2cm Flak auf gep.Zgkw. P 107 vehicles for self-defence.
On 6th May 1943, Stu.Gesch.Abt. 931 was merged with Pz.Jg.Kp. 931 and renamed verst.Pz.Jg.Abt. and was now part of the Schnelle Division West. (Western fast response Division). The abbreviation 'verst' was for the word verstaerkte which means 'reinforced' (reinforced tank hunting battalion).
Pz.Jg.Kp. 931 was equipped with seven gep.Zgkw Somua MCG/MC 7.5 cm Pak 40 auf m SPW S307(f) anti-tank self-propelled guns. The abbrerviation  gep.Zgkw is short for Gepanzerte Zugkraftwagen (Armored Half-track)
A few weeks later, on June 27th 1943, the unit was renamed again. It was just called Sturmgeschuetz-Abteilung (Stu.Gesch.Abt.) but without a unit number. The Schnelle Division West was now called the 21.Panzer Division.
The rest of the men and equipment of the Pz.Jg.Kp. stayed part of the 21st Panzer Division, but they handed over their gep.Zgkw. Somua mit 7,5 cm Pak 40 halftracks and 2cm Flak auf gep.Zgkw. P 107 to one of the Division's Panzer Grenadier Regiments.
On 15th July 1943 it was renamed again. This time it was called the Sturmgeschuetz-Abteilung 200 (200th Assault Gun Battalion) and was still part of 21.Panzer-Division.
In September 1943 the 4th battery was equipped with six 10.5cm leFH 18 (Sf.) auf Geschutzwagen 39H(f) artillery self-propelled guns. These had artillery guns that could fire high explosive shells over longer distances. The 4th Battery was also equipped with four 7.5cm Pak 40 (sf) auf GW 39H(f) anti-tank SPGs. To make the supply of spare parts and maintenance simple a decision was made in December 1943 that all the all FCM 36 tank chassis based SPGs were to be replaced with Hotchkiss tank chassis based SPGs.
German military units regularly sent reports to headquarters on how many soldiers and guns, tanks and SPGs were fit for action. In a battle strength report submitted by this unit dated 1st January 1944 there were no 10.5cm leFH 16 (Sf) auf GW FCM 36(f) listed.
It looks like they did not see action in Normandy fighting off the Allies invasion of France. At present it is not known what happened to them.
Identification
One of the easiest ways of telling the difference between a 10.5cm leFH 16 (Sf.) auf Geschutzwagen FCM 36H(f) self-propelled gun and a 7.5cm PaK 40 (Sf.) auf PzKpfw FCM 36(f) anti tank gun SPG is to look at the armored housing that surrounds the gun's recoil recuperator mechanisms. A recuperator on an artillery gun is a device employing springs or pneumatic power to return a gun to the firing position after the recoil. On the 10.5cm leFH 16 it is long and is half the length of the gun. It is situated below the gun. The armored housing covering the 7.5cm Pak 40 gun's recoil recuperator mechanisms is small and the gun barrel is thinner and much longer.
When looking at different German self-propelled guns the triangular road wheel armour covering between the tracks is very unique to the FCM 36 tank based SPGs and makes it easily identifiable.
An article by Craig Moore
10.5cm leFH 16 auf Geschützwagen FCM 36(f), having just come out of the tank conversion workshop.
10.5cm leFH 16 auf Geschützwagen FCM 36(f), 21st Panzerdivision, Normandy, summer 1944.
Gallery

10.5cm gun barrel being lifted by chain and rope hoist.


This 10.5cm LeFH 16 gun is being hoisted into position on its new self-propelled gun mount.


This 10.5cm leFH 16 auf Geschützwagen FCM 36(f) still needs its gun shield fitted before it can leave the tank conversion workshop.


10.5cm leFH 16 auf Geschützwagen FCM 36(f) artillery self-propelled gun with camouflage livery in France


Gun crews of the 10.5cm leFH 16 auf Geschützwagen FCM 36(f) being inspected in France by senior officers.


A member of the 10.5cm leFH 16 auf Geschützwagen FCM 36(f) gun crew posing for a photograph near his SPG.


10.5cm leFH 16 auf GW FCM 36(f) SPG being transported by rail to the front line.
Last surviving FCM 36 tank

The last preserved FCM 36 Char léger Modèle 1936 French WW2 light infantry tank at the Musée des Blindés, French Tank Museum, Saumur, France
Specifications

Dimensions (L x W x H)
4.60 (without gun 4.46) x 2.14 x 2.15 m
(15'1″ (14'7″) x 7′ x 7′)
Total weight, battle ready
12.2 tonnes
Crew
4 (commander, driver, gunner, loader)
Propulsion
Berliet MDP V-4 diesel engine, 91 hp
Fuel capacity
260 liters
Top road speed
24 km/h (15 mph)
Operational range (road)
225 km (140 miles)
Main Armament
10.5 cm (4.13 in) leFH 16 howitzer with 37 rounds
Secondary Armament
7.92 mm (0.31 in) MG 34 machine gun
Hull Armor
Front 25-40 mm (0.98-1.57 in)
Sides and Rear 20 mm (0.79 in)
Upper Armor
Front 15 mm (0.59 in)
Sides 15 mm (0.59 in)
Rear 15 mm (0.59 in)
Total production
12
Sources
Encyclopedia of German Tanks of World War Two, Peter Chamberlain and Hilary Doyle, 1999
Panzer Tracts No.10 Artillerie Selbstfahrlafetten by Thanks L. Jentz
Profile AFV Weapons 55 German Self-Propelled Weapons by Peter Chamberlain and H.L.Doyle
Beute-Kraftfahrzeuge und panzer der deutschen Wehrmacht by Walter J. Spielberger
French Tanks of World War II by Steven J.Zaloga
French Infantry Tanks: part II by Major James Bingham
German Artillery at War 1939-45 vol.1 by Frank V.de Sisto.
Musée des Blindés, French Tank Museum, Saumur, France.
Special thanks to Marcus Hock
www.tank-hunter.com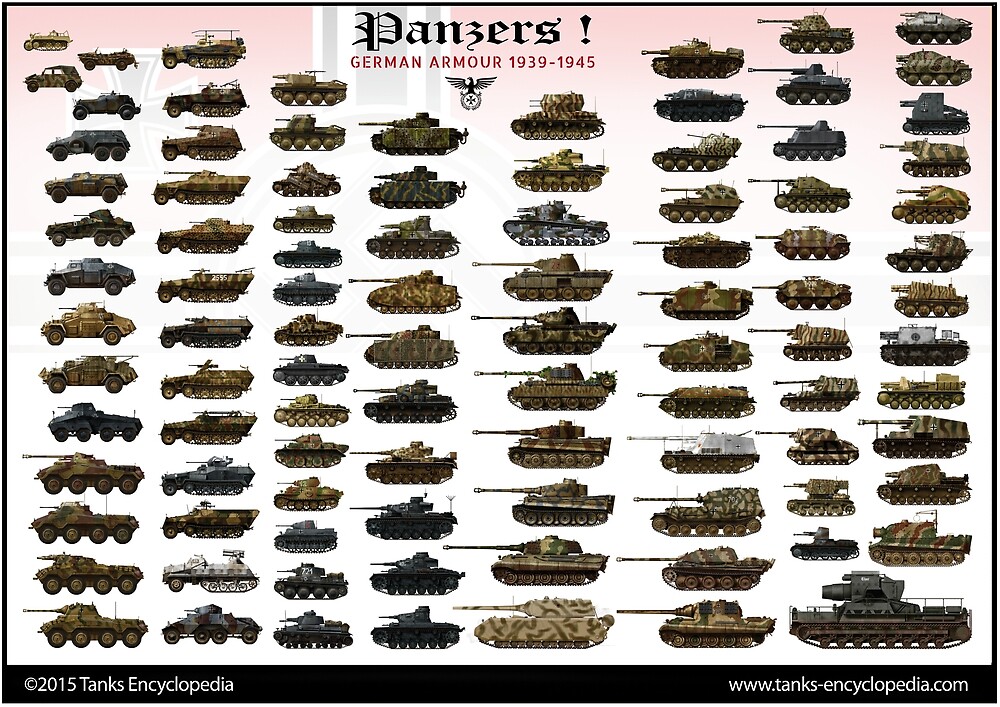 Germans Tanks of ww2

German Self-Propelled Artillery Guns of the Second World War
One towed artillery gun required a team of six horses and nine men. WW2 German engineers came up with the idea of mounting an artillery gun on top of a tank chassis. This new technology reduced the amount of resources required to deploy one artillery gun. Artillery self-propelled guns only needed a four or five man crew. They could also be made ready to fire more quickly. This book covers the development and use of this new weapon between 1939 and 1945. One type was successfully used in the invasion of France in May 1940. More were used on the Eastern Front against Soviet forces from 1941 until the end of the war in 1945.