Empire of Japan (1939-1945)
Command Tank – Unknown Number Built
The Type 97 Chi-Ha was Imperial Japan's most produced and most used medium tank and, as such, many variants were based on its chassis. The Shi-Ki Command tank (コマンドタンクシキ, Komandotankushiki) was one such derivative.

A Shi-Ki command tank amidst a company of Chi-Ha tanks. Photo: – D-Day Wiki
Mobile Command
The purpose of a command tank on the battlefield was to give a mobile observation position to company commanders. This was a tactic used to great effect by Nazi Germany's Wehrmacht during the Blitzkrieg, in vehicles such as the Kleiner Panzerbefehlswagen, a command tank variant of the Panzer I Ausf.B. Command tanks usually sported less armament compared to their contemporaries but carried better observation and communication equipment.
Japan's take on this type of vehicle was the Shi-Ki. The hull of the Chi-Ha base vehicle remained unchanged. The major changes came to the turret. The standard turret and armament were removed and replaced by a smaller conical turret. Placed atop this new turret was a large cupola with multiple vision ports. The main armament was replaced by a powerful radio which broadcast through a large horseshoe antenna with increased range attached to the top of the turret.
Armament
The Shi-Ki wasn't completely devoid of armament, but it was defensive more than offensive. With a large radio taking up room in the turret, the tank's main armament, a Type 98 37 mm (1.4 in) gun usually found on the Type 95 Ha-Go, was mounted in the bow in place of the machine gun on standard Chi-Has. A Type 97 Machine-Gun was also mounted in the back of the turret for the commander to use.
Replacment
It was recently discovered that a replacement was planned for the SHi-Ki. This vehicle would have been known as the Ka-Shi, and would fit the same role. It was a combination of the hull of the Type 1 Chi-He and the modified turret of the Chi-Ha Shinhoto. It was armed with the short 57mm Gun and 2 x 7.7mm machine guns. The turret was fitted with various observational equipment, including a large periscope on the turret roof. It is not known if any of these tanks were built, but a blueprint does exist.


The Ka-Shi Blueprint. Photo: Masao Kimura

A Shi-Ki from an Imperial Navy tank regiment – Illustration: David Bocquelet.
Small Article
The briefness of this article is due to the rarity of the Shi-Ki and the scarcity of information available about it or its use. It is unknown where the tanks served, with what units or even how many of them were built.


A Shi-Ki leading a column of Chi-Ha tanks. Note the 37 mm gun in the hull and how large the horseshoe antenna was.
An article by Mark Nash
Type 97 Shi-Ki specifications

Dimensions
5.5 x 2.34 x 2.33 m
18 x 7.6 x 7.5 ft
Total weight, battle ready
Aprx 15 tons
Crew
3 (commander, driver, bow gunner)
Propulsion
Mitsubishi Type 97 diesel, V12, 170 hp (127 kW)@2000 rpm
Speed
38 km/h (24 mph)
Armor
12 mm (0.15 in) roof and bottom, 25 mm (0.47 in) glacis and sides
Armament
Type 98 37 mm tank gun (1.4 in)
Type 97 7.7 mm (0.3 in) machine gun
Range (road)
210 km (165 miles)
Total production
Unkown
Links & Resources
Osprey Publishing, New Vanguard #137: Japanese Tanks 1939-1945
Osprey Publishing, Elite #169: World War II Japanese Tank Tactics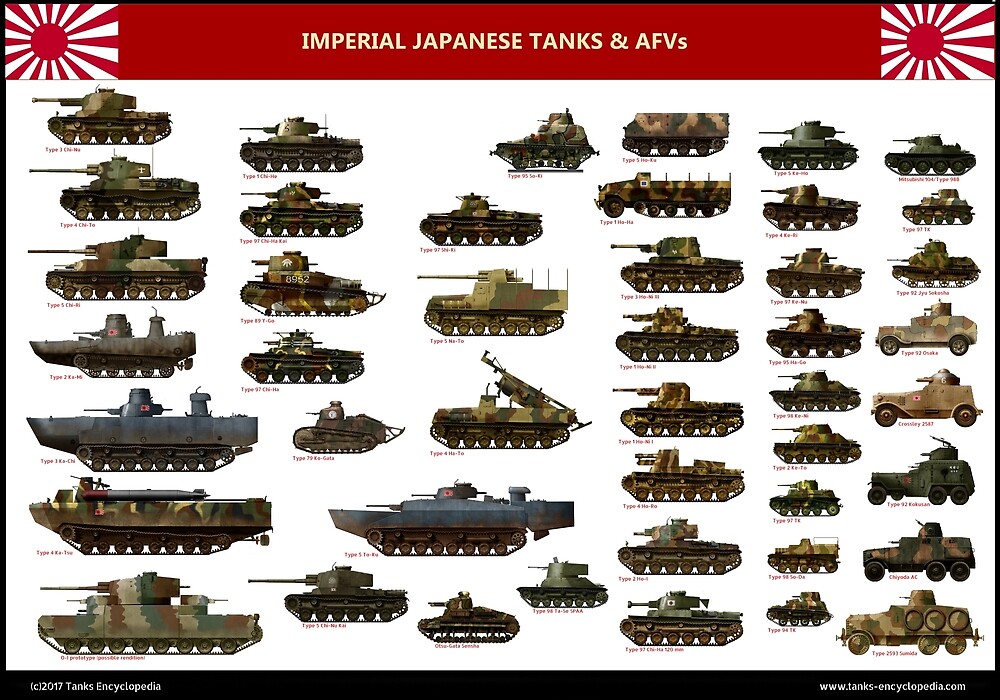 Get the Poster of the ww2 Imperial Japanese Army Tanks and support us !